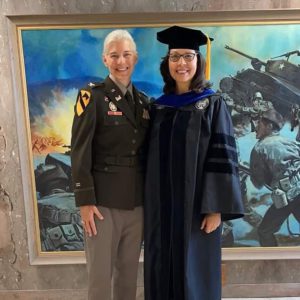 Elizabeth has always been a "go-getter" whether that be winning her hometown's city-wide tennis tournament when she was 10 years old, running 15 marathons, starting and running a business (or three!), or joining the Army at age 17. She does not back away from challenges and is constantly looking for ways to grow herself both personally and professionally. This past year has been an artful juggling act for her as she has not only run and grown her three businesses but was also promoted to the rank of Colonel in the Army National Guard and by name selected to attend the most prestigious War College, JAWS (Joint Advanced Warfighting School), located in Norfolk, VA. JAWS is an 11-month long training program offered to only 45 active duty military participants each year. The class schedule is from 8-4 on weekdays, leaving Elizabeth with the late afternoons and evenings to manage her businesses.
While the past year has been a challenge to masterfully manage all her responsibilities, Elizabeth would not change anything. "It's been a true joy to watch my businesses and employees thrive this past year. We grew 10% in 2020, which is incredible despite how challenging the year was for so many. I would not have been able to do it, though, without the support of my wonderful Elizabeth Evans Custom Homes, E2 Roofing, and VetCor staff. The only way you can truly succeed is to surround yourself with trustworthy and passionate people. I'm blessed to have a staff that truly embodies that. I am also honored and humbled to have been chosen for JAWS this year and look forward to serving my country in whatever capacity it needs me upon graduation."
This past weekend, Elizabeth graduated from JAWS and plans to return to the Florida National Guard as the Director of Strategic Plans and Policy. She strives to continue growing and expanding her businesses in other cities across the US and has already opened up a location in Nashville, TN. With Elizabeth, she is never satisfied with her current accomplishments and always strives to be as successful as she can be. We can't wait to see where she goes and what she does next.